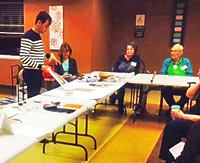 Meetings
Elk Grove Artists meet the fourth Wednesday of every month (except for November and December—please see Program Schedule) at the Carlton Plaza activity room. The Carlton Plaza is located at 6915 Elk Grove Boulevard just west of the Nugget grocery store (map). Professional artists speakers perform demonstrations and discuss their artwork at each meeting and or workshops are held. The public is welcome to attend—the first meeting is free to non-members. Sometimes we will meet at different locations pending the event specifics. So, do call ahead if you wish to attend. Our meetings are open to the public. (after 3) Subsequent meetings are $5.00 for non-members. You may go to our membership application here.
We meet for lectures, demonstrations of various art techniques and media, gallery tours, workshops, and outdoor paint-outs. From 6:30–6:45 p.m. we sign in and socialize. Business matters start around 6:45 p.m. which include announcements and sharing of art-related business information from the president and others. There is a "show and tell" portion for members to show works of art they've been working on. This is followed at 7:00 p.m. by a presentation or hands-on demonstrations, ending around 8:30 p.m.
A nominal fee of $5.00 is charged to non-members after their first 3 visits to cover speaker's fees at meetings.
Special Events
We are constantly looking for ways to stimulate artistic growth among our members. We take fields trips to various places such as fellow member artists, Mark Pratton's Old Home Pottery in Elk Grove for our summer picnic event. Elk Grove Artists members who chose to participate showed their work at locations like the the Elk Grove Fine Art Center Gallery or the Sacramento Fine Art Center in Carmichael or the Lodi Fine Art Center Gallery in Lodi Gallery, The Old Sugar Mill, and at various galleries in the Sacramento and surrounding area and we frequent tours for our members to the Crocker Art Gallery. We have a raffle drawing during each monthly member meeting that allows one lucky member to show a piece of art at the local Elk Grove Fine Arts Center Gallery for one month free of charge and we also have a a variety of door prizes.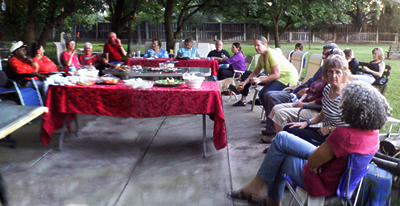 Speakers
The Elk Grove Artists are proud to provide a lively and diverse fine arts program and presentation schedule each year so that members and guests can expose themselves to new mediums, up and coming techniques and receive new inspiration for their own work. Each year brings a new set of regional professionals from diverse fine arts mediums that share their work and offer new insights, as well as refresh forgotten techniques. Actual demonstrations of their artistic process are frequently presented, and guest participation is often promoted. There is also a yearly Art Critique Night where artists can bring their work to be kindly and gently critiqued and coached by a Master Artist.
Program Calendar
*For information about the potluck in June call Kelly at 916-402-7987.